Cadbury's Dairy Milk to offer low-sugar version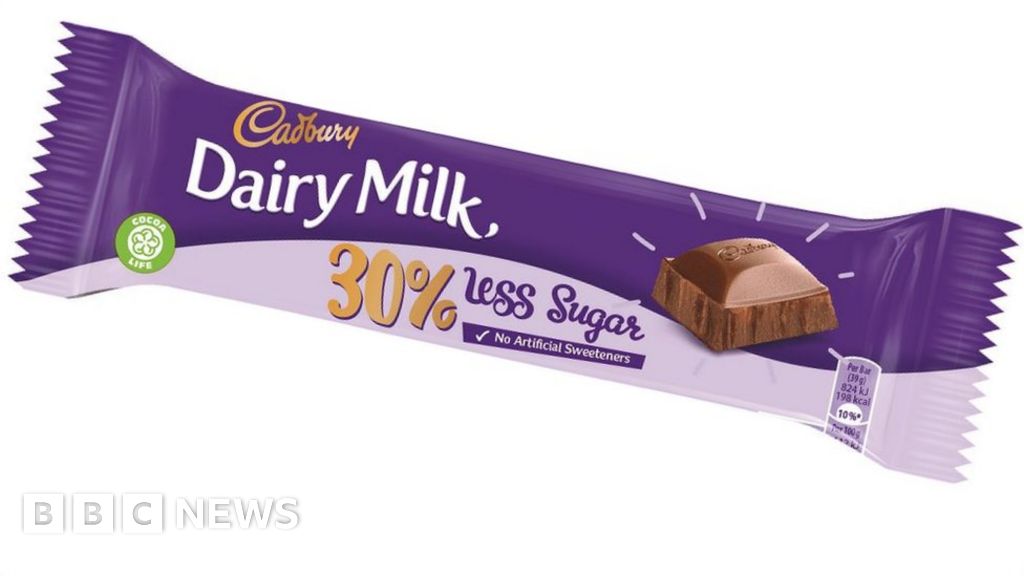 A staple of lunch boxes and peckish workers across the UK – Cadbury's Dairy Milk – will come in a low-sugar version from next year.
The new bar will contain 30% less sugar, a bigger reduction than the government had requested.
However, the full-sugar version will continue to be sold as usual.
Last year, Public Health England (PHE) challenged the food industry to reduce sugar levels by a fifth by 2020, or reduce the size of unhealthy products.
Mondelez, which owns Cadbury, said it was committed to tackling obesity, including childhood obesity, in the UK.
'Taste profile'
PHE said it was pleased that the company had decided to offer healthier products.
"This announcement shows reducing sugar in chocolate confectionary is possible, and we look forward to seeing future reductions across more of its confectionary range," said Alison Tedstone, chief nutritionist at PHE.
Earlier this year, the government introduced a sugar tax on soft drinks, but some have called for high-sugar foods to be taxed as well.
The British Retail Consortium (BRC) has argued in favour of mandatory controls on unhealthy food.
Many drinks manufacturers, including AG Barr – which makes Irn Bru – and Britvic have reduced sugar levels since the tax came in in April.
Britvic says that 94% of its drinks portfolio is sugar-tax exempt. The levy starts to take effect at 5g of sugar per 100ml.
A spokesperson for Mondelez said the new bars would taste "subtly different" to the full-sugar version, but they would "maintain the same taste profile".
The company has already introduced a 250 calorie cap on all small chocolate bars, and sells a Dairy Milk bar with 98 calories.
Next year it also plans to reduce the amount of sugar in Wine Gums and Jelly Babies.