Indonesia earthquake and tsunami: Dead buried in mass grave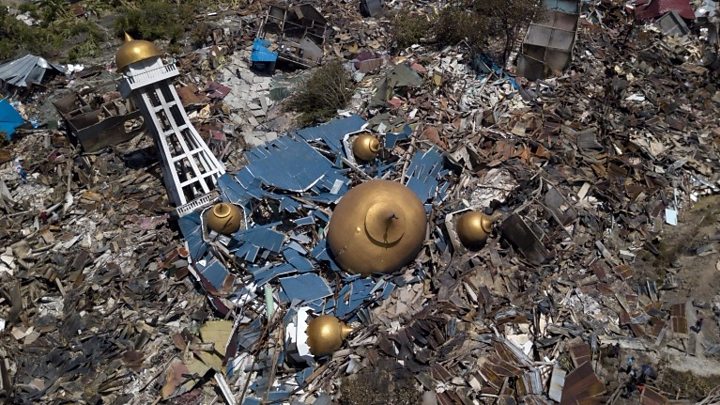 Volunteers have begun burying victims of Indonesia's deadly earthquake and tsunami in a mass grave.
Friday's disaster devastated swathes of the eastern Sulawesi island and has left at least 844 people dead.
Some remote areas have yet to be contacted, and there are fears that the death toll could rise further.
A lack of heavy lifting equipment is hampering rescuers' attempts to reach people who remain alive in the ruins of collapsed buildings.
Dozens of people are feared to be underneath the rubble of one hotel alone, the Roa-Roa in the devastated coastal resort of Palu.
"Communication is limited, heavy machinery is limited… it's not enough for the numbers of buildings that collapsed," said Sutopo Purwo Nugroho, spokesman for the National Disaster Mitigation Agency.
Yenni Suryani, of Catholic Relief Services, said aid agencies were struggling to get staff into affected areas as the main airport at Palu was damaged, landslides had cut road links and "power is out almost everywhere".
Some survivors have been looting shops for food, water and fuel, telling reporters they have run out of supplies.
Reuters news agency reports that police are escorting aid convoys to prevent supplies being stolen.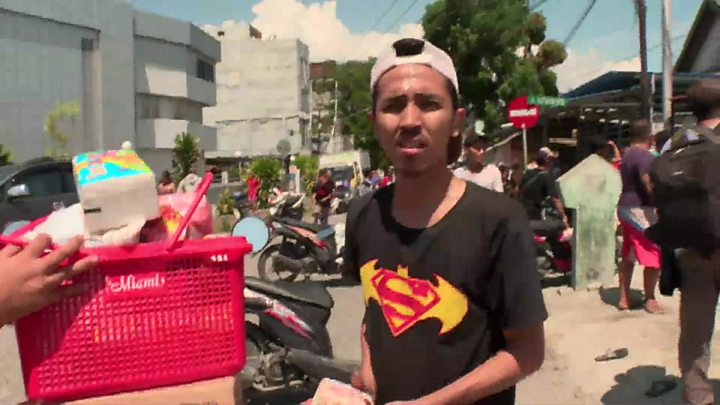 President Joko Widodo has welcomed offers of international help.
On a visit to the region, the president urged a "day and night" effort to rescue survivors.
Meanwhile, government officials say some 1,200 inmates escaped from three prisons in the region as the quake struck.
Victims buried
In the hills above Palu, volunteers filling a mass grave were instructed to prepare for a total of 1,300 victims to arrive.
Trucks arrived with bodies wrapped in orange, yellow and black body bags. They were dragged into the grave and motorised diggers poured earth on top.
But many people are still looking for missing loved ones.
Adi told AFP he was hugging his wife by the beach in Palu when the tsunami struck, and has not seen her since.
"When the wave came, I lost her," he said. "I was carried about 50 metres. I couldn't hold anything."
Patients and corpses side by side
By Rebecca Henschke, BBC News, Palu
Lying on a stretcher in the dark outside the Mamboro health clinic in Palu is a five-year-old girl with a broken leg. She was found alone, Doctor Sasono tells me. "We don't know where her family is and she doesn't remember where they live." His clinic has no power and is running out of medical supplies.
A few metres from her stretcher bed are rows of bodies in bags. The smell of decomposition fills the air. Dr Sasono says they will be buried in mass graves to stop the spread of diseases: "They are starting to smell. We want to wait for relatives to pick them up, but we can't wait any longer."
Rows of rubble lie all along the shoreline where vibrant fishing villages once stood.
People's possessions lie smashed together, with cars and boats tossed around by the massive waves. Amid the rubble are tents where families are sleeping out in the open.
Why was the tsunami so destructive?
The 7.5-magnitude quake occurred at a depth of 10km (6.2 miles) just off the central island of Sulawesi at 18:03 (10:03 GMT) on Friday, setting off a tsunami.
The earthquake was powerful but shallow and with more lateral than vertical movement, not typically the kind of tremor that sets off tsunamis.
A sophisticated tsunami warning system was put in place across the whole Pacific region after the 2004 disaster, which killed nearly a quarter of a million people.
A tsunami warning was issued after the earthquake hit on Friday, but many people in Palu did not receive alerts because of power cuts caused by the tremor. There were also no sirens located along the coast.
Videos show people screaming as waves 6m (20ft) high power over the beach – where a festival was being set-up – sweeping up everything in their path.
Indonesia, one of the world's most disaster-prone countries, lies on the Pacific "Ring of Fire" where tectonic plates collide and many of the world's volcanic eruptions and earthquakes occur.
---
Have you been affected by the earthquake? If it is safe to do so, share your experience by emailing haveyoursay@bbc.co.uk
Please include a contact number if you are willing to speak to a BBC journalist. You can also contact us in the following ways: