Jamal Khashoggi case: Liam Fox pulls out of Saudi summit
The UK's International Trade Secretary Liam Fox has pulled out of attending an investment conference in Saudi Arabia next week.
It comes amid allegations the country was behind the killing of Saudi journalist Jamal Khashoggi.
Mr Khashoggi has not been seen since entering the Saudi consulate in Istanbul on 2 October, where Turkish officials allege he was killed.
Saudi Arabia, which denies the killing, allowed investigators inside overnight.
The Dutch and French finance ministers, as well as several other politicians and business leaders, have said they are pulling out of the event.
However, a number of major businesses – including Goldman Sachs, Pepsi and EDF – are still intending to go despite growing pressure for a boycott.
A spokesman for Dr Fox said "the time is not right for him to attend" the conference in Riyadh.
"The UK remains very concerned about Jamal Khashoggi's disappearance… those bearing responsibility for his disappearance must be held to account."
On Thursday, the Washington Post published Mr Khashoggi's last column – a call for press freedom across the Arab world.
The newspaper said the column had been submitted by Mr Khashoggi's translator the day after he was reported missing.
It had initially held off from publishing the column, but decided to go ahead after accepting Mr Khashoggi was not going to return safely.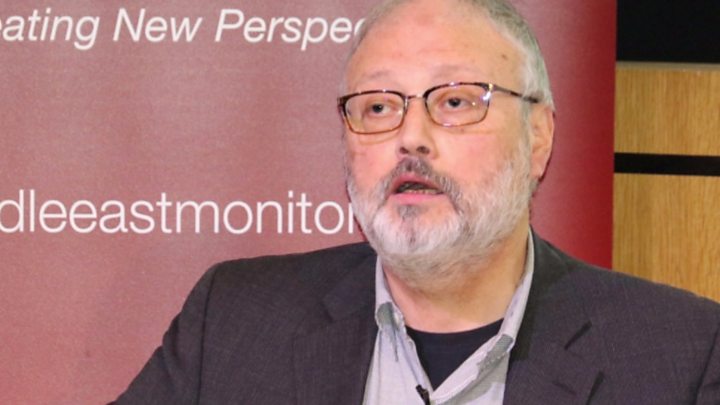 In his column, Mr Khashoggi criticised the state of press freedom in the Arab world, saying it left Saudis "either uninformed or misinformed".
He mentioned the case of his fellow Saudi writer, Saleh al-Shehi, who he said "is now serving an unwarranted five-year prison sentence for supposed comments contrary to the Saudi establishment".
"Such actions no longer carry the consequence of a backlash from the international community," he wrote. "Instead, these actions may trigger condemnation quickly followed by silence."
The result, he said, was that governments had "free rein" to silence the media.
Jamal Khashoggi disappearance: The key events
2 October
03:28: A private jet carrying suspected Saudi agents arrives at Istanbul airport. A second joins it late afternoon
12:13: Several diplomatic vehicles are filmed arriving at the consulate, allegedly carrying some of the Saudi agents
13:14: Mr Khashoggi enters the building, where he is due to pick up paperwork ahead of his marriage
15:08: Vehicles leave the consulate and are filmed arriving at the nearby Saudi consul's residence
21:00: Both jets leave Turkey by 21:00
3 October
Turkish government announces Mr Khashoggi is missing, thought to be in the consulate
4 October
Saudi Arabia says he left the embassy
7 October
Turkish officials tell the BBC they believed Mr Khashoggi was killed at the consulate. This is later strongly denied by Saudi Arabia
13 October
15 and 17-18 October
Forensic teams carry out searches of consulate
Read more: What we know about Saudi journalist's disappearance