Jeremy Corbyn accused of 'stupid woman' jibe at Theresa May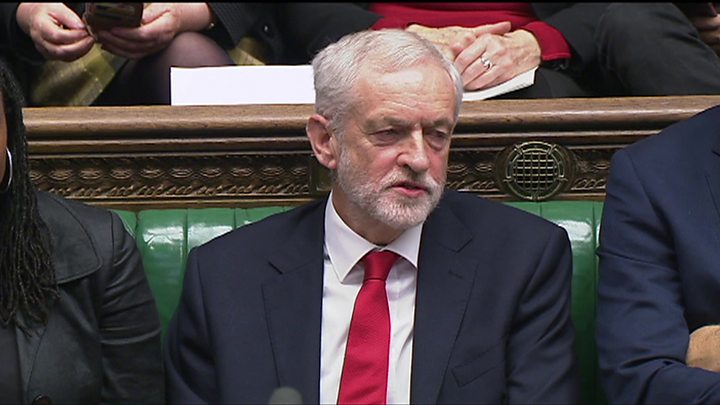 Labour leader Jeremy Corbyn is facing calls to apologise for apparently calling Theresa May a "stupid woman" during Prime Minister's Questions.
The prime minister was mocking Mr Corbyn during heated exchanges, telling him to "look behind you" when he was caught on camera muttering the phrase.
Conservative MPs called on the Labour leader to be ordered to apologise.
Speaker John Bercow said he had not seen the alleged incident and so could not "immediately" rule on it.
There was uproar in the Commons, as Mr Bercow insisted he wanted to see the evidence before "pronouncing" on Mr Corbyn's "innocence or guilt".
Mr Corbyn had clashed with the prime minister over her Brexit deal, calling her decision last week to delay a vote on it a "deeply cynical manoeuvre" from a "failing" prime minister.
Mrs May hit back at Mr Corbyn saying he had not tabled his promised no confidence motion, and had then tabling one that was ineffective.
"I know it's the… pantomime season," she told MPs, "is he going to put a confidence vote? Oh yes he is," she said, prompting backbench Tories MPs to chant "oh no he isn't".
Continuing the pantomime theme, she told the Labour leader "look behind you – they are not impressed and neither is the country".
Mr Corbyn could be seen saying something under his breath in response.
Former minister Sir Patrick McLoughlin used a point of order to accuse Mr Corbyn of having "muttered" that Theresa May was a "stupid woman".
Cries of "shame" and "disgraceful" were heard from the Tory benches at this point.
Sir Patrick added: "Would it not be appropriate for him to come back into this chamber and apologise?"
The row continued after Prime Minister's Questions, with a string of female Conservative MPs joining in with calls for an apology.
Commons leader Andrea Leadsom turned on the Speaker himself, reminding Mr Bercow of his failure to apologise to her for calling her a "stupid woman" during an incident earlier this year.
Mr Bercow said he had already dealt with that matter.