Nazi guard Palij deported by US to Germany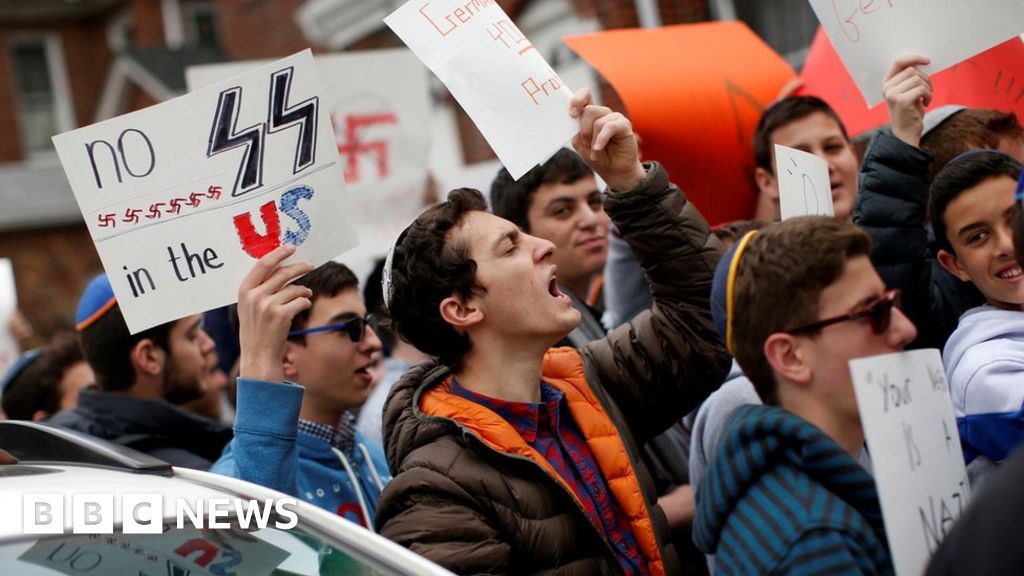 A 95-year-old former Nazi collaborator who served in the notorious SS as a labour camp guard in World War Two has arrived in Germany after a long deportation battle in the US.
Jakiw Palij has been stateless since a federal judge revoked his US citizenship in 2003.
For years Germany refused to accept him as he never had German nationality.
After arriving in Düsseldorf he was being taken to a care home for the elderly, German reports say.
The US ambassador in Berlin, Richard Grenell, praised Germany's new government and President Donald Trump's "crucial leadership" in resolving the case.
Who is Jakiw Palij?
Authorities believed he was the last Nazi collaborator still living in the US, and his residence in the Queens area of New York City attracted protests from residents.
Palij is said to have been born in an area of Poland that is now in Ukraine.
In 1943 he went to the Trawniki SS training camp in Nazi-occupied Poland.
Trawniki was notorious because it trained thousands of civilians from the area who went on to become active as death camp guards at Sobibor, Treblinka and Belzec.
Its most notorious camp guard was John Demjanjuk, who was convicted by a German court of being an accessory to 28,000 murders at Sobibor. He too was deported by the US, in 2009.
Jews were sent to the camps as part of Operation Reinhard, the Nazi plan to murder more than two million Jews in occupied Poland.
Trawniki also housed a forced labour camp where more than 6,000 Jews were murdered on a single day – 3 November 1943.
A White House statement said Palij served as an armed guard and had played an "indispensable role" in ensuring Jews were killed.
He arrived in the US in 1949 and was given citizenship in 1957.
Although a US court ruled he had assisted in the persecution of prisoners, he was not found personally responsible for deaths. His deportation was ordered in 2004 after a judge said he had falsified his immigration application.
Palij himself has denied collaborating with the Nazis. He told the New York Times in 2003 that he had never set foot in a camp and only agreed to work as a guard because he believed the Nazis would kill his family if he refused.
---
Read more on the Holocaust:
The hidden graves of the Holocaust
---
Why did deportation take so long?
US authorities were unable to persuade Germany, Ukraine or Poland to take him in. He never had German citizenship and originated from an area of Poland that is now Ukraine.
The US ambassador said a change of heart came with the advent of Chancellor Angela Merkel's new cabinet earlier this year. Mr Grenell said on social media that President Trump had also played an important role in securing the deportation.
Centre-left Foreign Minister Heiko Maas told Frankfurter Allgemeine newspaper (in German) that Germany had a "moral duty" to "come to terms with and face up to the crimes of the Nazi reign of terror".
The website reported that he was taken on arrival in Germany to a care facility in Ahlen near the western city of Münster.
Nazi-hunter Efraim Zuroff from the Simon Wiesenthal Center in Jerusalem praised the US "determination" to deport Palij and said he wished there was a way of bringing him to justice.
A German ruling in the John Demjanjuk case meant that prosecutors were able to charge SS guards with being accessories to mass murder, without direct proof of participation in atrocities.
However, prosecutors in the German city of Würzburg halted the case against Palij in 2016, citing lack of evidence.
Four cases involving Nazi concentration camp guards are currently being investigated. A German man in his nineties was charged earlier this year with aiding and abetting the murder of more than 13,000 people at Auschwitz-Birkenau death camp.