Pussy Riot claims responsibility for dramatic on-field protest during World Cup final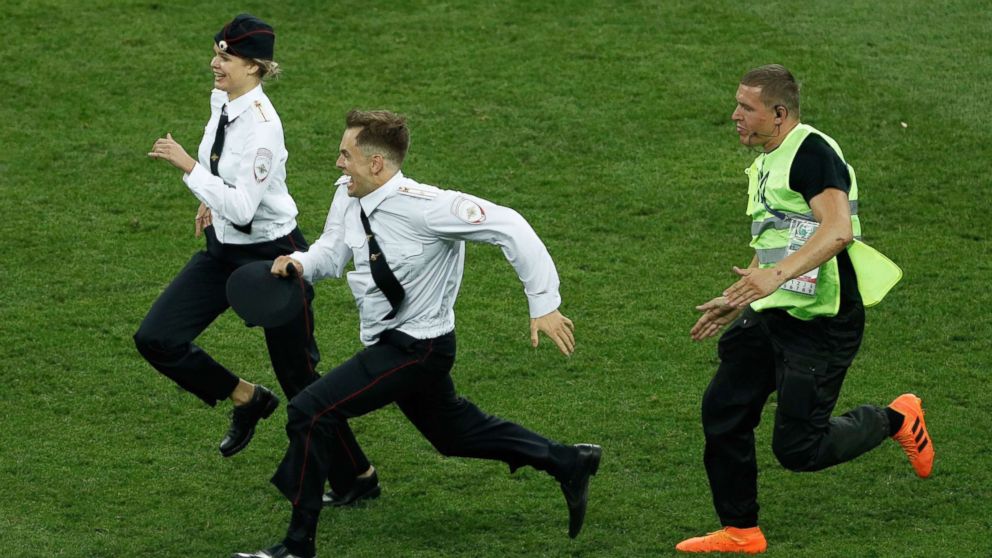 Pussy Riot claimed responsibility Sunday for an on-field protest during the World Cup 2018 final game between France and Croatia, a dramatic display of dissent that called for the release of political prisoners and advocating for freedom of speech.
Four members of the Russian punk rock band and arts collective ran onto the field early in the second half, dressed as policemen, and pitched a protest in front of millions of viewers who were tuned in to the final match, which was also attended by Russian President Vladimir Putin.
The protest also comes a day ahead of U.S. President Donald Trump's high-stakes summit with Putin in Helsinki.
"They're held at the police station 'luzhniki' and the lawyer Nikolay Vasilyev from Agora is there. But the cops don't let him in," a representative of the group told ABC News in an email Sunday afternoon.
The message was relayed from Pussy Riot member Nadezhda "Nadya" Tolokonnikova, who was imprisoned in 2013 for protesting Putin's policies, but was not one of the four members who staged the protest on the field.
According to Tolokonnikova, who cited a Russian police website, "They're charged with 2 misdemeanor cases."
According to a statement obtained by ABC News from Russian police, members who ran to the pitch are charged with administrative offenses —- violating rules of conduct for spectators during the holding of official sporting events and also wearing a police uniform without authorization.
In a post published on the group's official Facebook page, the members claimed responsibility for the protest, explained the significance behind the policeman imagery and included a list of demands.
"Today is 11 years since the death of the great Russian poet, Dmitriy Prigov. Prigov created an image of a policeman, a carrier of the heavenly nationhood, in the russian culture," the group wrote. "…The heavenly policeman rises as an example of the nationhood, the earthly policeman hurts everyone…The FIFA World Cup has reminded us of the possibilities of the heavenly policeman in the Great Russia of the future, but the earthly policeman, entering the ruleless game breaks our world apart."
In their Facebook post on Sunday, the group called for letting "all political prisoners free," "all political competition in the country," and to "stop illegal arrests on rallies," among other demands.
In 2012, three of the group's original members were charged with hooliganism and sentenced to two years in prison for performing the anti-Putin protest song "Punk Prayer" at a Moscow cathedral.
Yekaterina Samutsevich's sentence was suspended on appeal but Tolokonnikova and Maria Alyokhina remained in prison until December 2013.
After their release, the activists founded an independent media outlet that advocates for political prisoners and have continued to speak out against Putin and other leaders, including Trump and British Prime Minister Theresa May.
"We've seen the authoritarian tendencies is parading all around the world as sexually transmitted diseases, and we think it's time to make connection," Tolokonnikova told CNN in August 2017. "It's time to create global people's movement if we want to find an alternative to this raid of populism, which we've seen in my own country, Russia and in America too, Donald Trump, and in the UK, which ended up in Brexit."